Here's some sites that came close to being called to the "Worst"...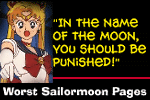 Page: Sailor Galaxia's Dimension of Pure Evil
URL: https://www.angelfire.com/fl2/GoldenSenshi/
Creators: Sailor Galaxia
Nominated by: Raven and Huntress

Comments:

Well, well, well... "Galaxia's Dimension of Pure Evil"?
I have a better title for this page- how about "Galaxia's Dimension of Pure Rip-Offs", or maybe "I was too lazy to research my own information and write my own HTML code, so I'll just copy and paste it from another site!"
What am I talking about? Well, it seems this site almost completely rips off the information, plus the basic design of the villains section at Silver Moonlight. (Their villains section is here, if you wish to compare.)
The owner of the rip-off site very slightly alters the text in a few spots, but for the most part, the text is word for word the same. Also, the basic layout is the same: links on the top, a paragraph, then links on the bottom, all in a nice, neat package. It's obvious this was simply copied and pasted from Silver Moonlight's source files. Only a few tags were changed to alter the fonts, colour schemes, and backgrounds.
The only redeeming quality? The picture galleries do not appear to be stolen. The basic layout is very similar, but the pics themselves are not often the same. However, stealing info is even worse than stealing pics. Look up plagiarism in the dictionary sometime will ya?

Hurray, it's a plagiariser! So we'll copy all the villain info, hmm? And the layout too, hmm? Plus we'll add annoyingly large graphics, animated gifs, and music files to the site! All righty then!
Page: Mercury Bubbles
URL: http://expage.com/page/kewssailormoonpage
Creator: ?
Nominated by: Ashlie

Comments:

Wheeee! Loading, Loading, Loading... DRUM SOLO!
[Looks at clock] This is turning into one long drum solo...
[Looks at clock and stops] Hmmm...
[Taps foot]
Anytime now the background pic on this page will load up so I can actually read the black text rather than trying to see in it on a black background.
[Background loads]
ACK! [Falls out of chair]
[Climbs back up]
Well, what can I say, it's overly colourful, it doesn't tile nicely, the black text (what little of it there is) is hard to read, plus it's direct-linked from another site! As a matter of fact all of these pics are...
Oh my...
[Falls out of chair again]
I guess I'll just stay on the floor for this one.
As I was saying, site has direct linked pics, but it also uses an anti right-click script. The message box says "Looser"... Looser? Who's the... ummm... hehe
[shuts mouth]
It uses a anti right-click script to protect direct link pics? Oh by the way, the script doesn't work in Netscape. So if you're using Netscape, you're missing all the fun right now.
As for the info, well, the only thing is a profile section with, you guessed it, stats lists. Not just any stats lists though, ones with spelling mistakes and some interesting possible English dub names.
In the galleries, there are just more direct-linked pics, all "protected" by an useless anti right-click script.

Wow. The front page is really busy. Hard to see what's going on... What's this? I'm a "loser" if I right click? GASP. Guess I'll have to go to Netscape where it DOESN'T WORK. Not to mention that all I have to do is look at the SOURCE CODE. Duh. Hmm. Interesting. At least 5 pages this person is direct linking too for pictures. The profiles are okay; more direct linking. The Inner "Scouts" either have the dubbed profiles, the Japanese profiles, or a mixture of both; the Outer "Scouts" have the original profiles; all have made up heights and dates of birth; and a lot of the name translations are bad ("Minako Aino" means "surrounded by beauty and love"). Plus the Outers have made up dub names. In Uranus's section, it says: "Dubbed name: Michael,Alexis,or Alex". Saturn's dubbed name is "Corrine" and "Height 3'9" (child) 5'0" (Grown up)". Usagi is "Usagi Tuskino", plus the yellow font is unreadable, as is the pink font on Rei's page. The owner is right, you can't see diddly in Netscape on the adoptions page; you can't see anything in the gallery page either in Netscape, which is fine, as all the images were direct-linked and unthumbnailed anyway (looking at the source code). Oh my GOD there's a page two -_- Okay, whoopy dee, the second page is also busy with lots of huge pics. The second picture gallery has a couple of animated gifs piled on; I don't know what "Sailor Power" was supposed to be; the "Attack Translations" is a misnomer, all the attacks are English to begin with (probably cut and paste the "translations" anyway); the "Story of SM" is okay but a lot of things are overdramatisized and flat out made up. Plus I honestly doubt whether or not the author could do anything creatively on his/her own.
Page: The Moon Kingdom
URL: http://www.geocities.com/Hollywood/Star/5414/moonkingdom.html
Creator: xgirrl
Nominated by: ESM

Comments:

Here we have yet another case of a page that direct links just about all of its files. The owner doesn't even provide links to the sites which are stolen from.
As for the info, well, the "Story of Sailor Moon" is generally okay, except for two things. First, why make all the names of the items and characters different colours? If they were links leading to pages on those items and characters, then I could understand the purpose behind it. However, they don't, so it only makes the text look way too busy. Second, what's the point of having a whole page on the first season only to stick two sentences on the end about the last season? That's makes things get a little off track. What about the other three seasons?
The profiles are just the usual stats, as for the games... a typing test?!?!
One last word of warning to the people reading this. There is something on the main page of this site that crashes browsers. It got IE twice. So thinking it was just IE being cranky, I used Netscape. However, on my second return to the main page, Netscape crashed.

I think I counted about 10 direct links on the front page alone? More or less. Like Cere said, the "Story of Sailor Moon" is weird- the story of the moon is okay for the dub, though it seems to add in stuff and dramatize it more than is necessary, then at the end it explains about Galaxia, the "scouts", Chibi-usa/Rini being Serena and Darien's daughter, and ChibiChibi being a star seed. The bios page has animated gifs for every senshi on the front page; the profiles page themselves have generic stats and a billion images- transparent gifs and animated gifs galore- piled onto them. On the whole the info is okay, though there are a lot of mistakes (see Mercury's page for examples). The villains page says there are a lot of pictures.. but I only got two pictures... and it only has Alan, Ann, and Wiseman on it. The Transformations page has more animated gifs, hurrah.
Page: sailormoon and DBZ
URL: http://www.geocities.com/Tokyo/Club/9976/
Creator: greneday
Nominated by: Kitty

Comments:

[Cere at the Grammys...] Loading, Loading, Loading....
And now, Carlos Santana on the guitar!
Eh? Jennifer Lopez? What the heck are you wearing?
[bops her with the guitar!]
Go put some clothes on!
Yes, long loading, but the main reason we are reviewing this site is because it is yet another site that direct links a ton of files. The good news is it doesn't steal any pictures. The bad news, it does steal much larger .avi and .ram files without any credit to the sites they are from. Not to mention most of the sites which are stolen from have to pay for hosting. Now that's bandwidth stealing! Sucking up bandwidth from people that had to pay for their webspace!
As for info, no info, nothing. My advice, only use this site to find where the files really came from, and then use those sites. Give them the credit for their work, and the money they paid.

Woah. Okay, that front page is kinda.. busy... Exactly why are there two of the same pictures on the front page anyway? The image galleries are a total nightmare- huge pictures, no thumbnails. Oddly enough these aren't direct linked, but the ROMs, the movie files, and the music files all are. Direct linking is evil :P