These pages are in no special order. These pages are just plain cool!
Be proud you don't suck!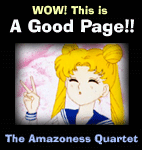 All winners may either download this file, or go to our awards-banners page for other options.
Place this award on a place of your choice on your web page. Be proud you don't suck!
Krazy Kitty
Creator: Ann
General Info: A very complete Tin Nyanko Shrine. Includes info, downloads and fun!
Nominated By: AzN
Comments:
How anyone could put together this much stuff in a Tin Nyanko shrine is beyond me!
The information section is very complete, everything Nyanko is covered from the anime to the manga to the musical! I especially liked the idea of the "Goals" and "Words to know" section. After all, you can't talk about Nyanko without mentioning what all Animamates were up to.
There are a lot of Nyanko related downloads to be had here as well. Includes the usual pic galleries, plus desktop themes and other things in Puter Goodies. Also included are a lot of fun entertaining sections like a very original "Where's Tin Nyanko?" game, based on those Where's Waldo thingys.
As for suggestions, well Ann should check out some of the links on the links page. A lot of them are out of date, and in real need of updating.
(Wow that was being very picky Cere... but I couldn't find any other problems!)

I like this page. The look is clean and elegantly simplistic. Don't let the lack of color (the page itself is almost entirely black and white) throw you off, there is plenty of content here. The information page takes a look at the various incarnations of Tin Nyanko from the anime to the manga to the musicals. It also gives a lot of miscellaneous info like where the name came from and information on the voice actress.
Once you're finished studying up on Tin Nyanko, go to the computer goodies section and theme your computer to her. The humor section features a fanfic that is a 'What if Eudial and Tin Nyanko met..?' story. It was pretty funny. The fun and games section has some simple games that are amusing. The 'Where's Tin Nyanko' game is a lot like find Waldo only this picture is made up of sprites from the video games. This is an excellent page considering how little attention Tin Nyanko got in the series.
There are only two things that I would suggest. The first would be to encourage the author to create a couple more of the games to play. The other thing is to do something more to differentiate text from links; they appear almost the same in Netscape 4.6.

The page's set-up is really nice and simple even though the colors range from white to grey to black and there is virtually no color at all except for some of the icons. The info gets right to the point, highlighting the main points of Nyanko's life. The only info problems I had was that in the "goal" manga section SHOULD say "sailor crystals" because those are different from the "star seeds"; translating "sailor crystals" to "star seeds" in the manga would be a huge mistake, and that calling "manga" "Motionless picture" isn't a definition, it's propaganda for Mixxzine. There are profiles on the other Animamates; an image galleries and multimedia; some computer stuff; some weird "humor" things; and a couple of games.
Hourglass
Creator: Skeeter
General Info: An excellent Sailorpluto shrine
Nominated By: Lady Starra
Comments:
Part of this very beautiful and informative Pluto site, was actually once known as "The Dark Dome" by Serra Chase. Skeeter was given "Dark Dome", which she redesigned and added to and has now reopened as "Hourglass".
On the inside, there are a lot of things Pluto to see and do. The "Eyes" section includes a collection of Pluto downloads, including Images, Multimedia files, skins, themes and fan art. It's nice how the image gallery even includes a choice of navigating by thumbnails or text descriptions. The info sections are in the "Scroll" and "Words" section. The "Words" section is more of an opinion section, but there are still a lot of things in there that information seekers can read to learn more about pluto and the other senshi.
The only thing I think could really be improved here is the navigation on the main index page. It might be nicer if there were some very brief descriptions of what we can find in the "eyes", "words", "scroll" and "gates" sections. Maybe something like "Downloads, Opinion, Info, Site Info" respectfully. They could be added easily under the text links on the main page. That would help people only looking for certain items so they don't have to poke around the whole site until they find what they want.

This is a nice looking Pluto shrine. The pages are well thought out and informative. In fact, the amount of information here is staggering with its diversity and depth. This page earns marks with me since Pluto's strengths AND her weaknesses are pointed out and discussed in an honest manner. Few shrine pages tell both sides of the story (though, being a shrine, one would expect to read about the best parts of the senshi in questions).
The graphics page did take a while to load using the thumbnails. The thumbnails of some of the pictures were distorted due to them being forced to dimension instead of sizing to scale. Fortunately, there is a text link only version available for those who don't want to wait.
Overall, this is a strong site and a must see for any Pluto fan.

Nice set-up. I liked the fanart section the best. There are a lot of downloads, so if you're looking for some Pluto stuff to spice up your desktop, there's some neat stuff here.
There's actually a few minor problems with the info section. The first is that "Two Faces" interjects a lot of opinion into the page; opinions are good, but the page says that Pluto once and for all does NOT love King Endymion, when in the manga it's hinted at. Also Setsuna liking Chibi-usa does not automatically mean she has an "affection for children". I would be more specific by saying in the anime, Pluto doesn't love Endymion, and in the manga, it seems like she likes children (her reactions to the children at the school suggest that). "Moving Still" invents the idea that Pluto is resurrected by Neo-Queen Serenity in the anime; and the manga section doesn't put things in order so it might get confusing (for example saying that Setsuna is 18 and then saying that she dies in Act 23, when the order should be the other way).
"Words" is mainly an opinion section; discussing why Pluto might be so underrated; some dream dates; some views on the other senshi from Setsuna's perspective, which is quite interesting; and fanfics.
People often write me and ask, "What can I make a site on? What's left that hasn't been done?" In the past I have often told them: the villains! Not a page on just one villain, but all of them! I don't think Emrys was one of those people, but it's great that someone has gone and made a good, complete site about all the villains.
A good part of this site is an entertaining, and down right funny look at the villains. Check out the Troublemaker Yearbook in the Specials section. Even though it is still a work in progress, there is already a lot of funny bits in there. "Separated at birth?" is another funny gem. "Professor Tomoe = David Bowie as Andy Warhol (Because the real Warhol is too scary looking!)"
Getting down to business, there is a lot of serious information on the villains as well including Fanart, Fanfiction, Voice Actors Page, Dic Episode Guide, and Products page. Of course, there is also a character guide section with good summary descriptions on just about very villain including Bonne from the "Ami's First Love" special. The only guides that have yet to be completed are the Sailor Stars villains and the Amazon Trio and Amazoness Quartet. [Poke, poke... hey hurry up and finish that one] For fans of other anime there is also a Bishonen tribute to the males of several other anime.
Design-wise, this page is simple, but very nicely laid out. The only suggestion I can see is maybe organizing the links on the index page into a more logical order. Such as grouping all the serious sections together, and all the entertainment sections together. Whoa I am being picky this month!
[Cere slaps herself around a few times]

Wow, three shrine pages this month. Definitely check out the Troublemaker Specials. The Teen dead-Beat was great, along with the Last Will and Testaments and Top 10 Villain Fashion Faux Pas. There is a modest fanfic and fanart archive related to the villains of the first two seasons of Sailormoon. The voice actor/tress page features information on North American and Japanese performers. (Including a list of shows that the North American actors have been seen in). As a villain, I can only hope that this page will someday expand to include the baddies from the later seasons.

There's a lot of good info on the villains (most of them anyway) with complete monster listings. The seiyuu information is really good, with all enemy seiyuu listed (and VAs for the dub too) with some of their other roles (and yes, the owners do credit Hitoshi Doi as well as some others). There's some nice product information on where to get books and dolls of your favorite villains. The Troublemaker Specials section is extremely innovative and cool; my only problem is that some of the sections rely only on graphics with no ALT tags or text underneath the pictures at all, so you'll have to deal with slow modems and Geocities if you want to see everything. But if you wait it out, you'll get some really good laughs. Check everything out here, it's all good. There's also some "Adopt a Villain" things, an "Ask Esmeraude" section, a "Question of the Month" area, and some fanfics and fanart. Over all a really nice shrine to the villains; hopefully the sections that aren't complete now will be up in the near future.