These pages are in no special order. These pages are just plain cool!
Be proud you don't suck!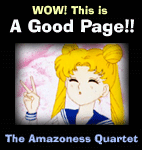 All winners may either download this file, or go to our awards-banners page for other options.
Place this award on a place of your choice on your web page. Be proud you don't suck!
Sea Sky, Wind Water
Creator: Jackie Chiang
General Info: An extensive Haruka and Michiru shrine.
Nominated By: Rebo Valence
Comments:
Here we have a shrine brought to you by the same person that create the good ole Sailor Senshi Page. For the longest time the SSP was building up a lot of info on Uranus and Neptune, so much so, that it was only natural to take a lot of that information, add to it a bit more, and give it all it's own separate site. There is a lot of stuff here, one of the most extensive shrines I've seen in a while, some combo pages don't even have this much content!
It has the usual stats, image galleries, movie clips, and mythology sections that has become common place on most shrine. However, it also has very in-depth summaries on the characters for the anime and manga, info on the musical actresses, and a large doujinshi gallery. One section I thought was especially nice and original, is the small gallery of paintings painted by Michiru which appear in the anime.
As for layout, it may not look as fancy as some other shrines you've been to, but it works. It keeps things simple, and easy to follow. There are some problems every now and then where the coloured part of the backgrounds does a weird thing on the bottom of the pages, in higher resolutions, but that's only a minor cosmetic thing. I wasn't too fond of the drop-down box used on the bottom of the subpages as a way to quickly move on to another section. I'm not fond of using drop-down boxes for navigation anyway, however my biggest problem with them here is how they use section titles that don't really describe what the sections are. You wonder what section is what, a first time visitor is not going to have the titles memorized. Eventually then you just give up and go back to the index to see what the sections are, rendering the drop-down box on the subpages useless. There's also a splash page to this site, but after reading it, it appears it was only added to advise people who are not comfortable with Haruka's and Michiru's relationship to stay away.

A very nice Neptune and Uranus shrine with lots of things to see, and read. It's by no means complete, but it's pretty close to just about everything you could want to know about the couple in the anime, manga, sera-myu musicals, and even doujinshi.
I found this site to be accurate, entertaining, and even had a few things that I didn't know about the couple. So excuse me while I go finish enjoying this site!

Sea sky, wind water is a shrine done the way they were meant to be. It has all the info you could wish for, and then some, and then some more. Even the stats section has a bit of a twist to it as you get the anime and manga stats being presented together, allowing you to compare the two versions. The anime background provides more than just background, giving a fairly detailed account of the duos' activities in the anime. It's a long read, but it still flows fairly easy and is definitely worth your time.
The voices section gives basic information and links to more detailed sites on the voice actresses, as well as several pictures of them. For the same price, you are also treated to short summaries of the musicals in which Neptune and Uranus appear, along with a picture for each and the name of the actresses.
In the arcade, you might have guessed, you'll find information on some Super Nintendo games featuring Neptune and Uranus, including but not limited to Another Story.
I could go on describing the sections, but suffice it to say that this is a very well done and complete shrine, with more stuff than you can shake a stick at. I'm sure your time will be better spent checking it out than reading a lengthy review, so go enjoy.