These pages are in no special order. These pages are just plain cool!
Be proud you don't suck!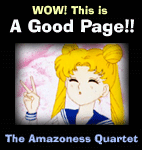 All winners may either download this file, or go to our awards-banners page for other options.
Place this award on a place of your choice on your web page. Be proud you don't suck!
Dark Echo Grounds of Thunder Senshi
Creator: Jov
General Info: A shrine to the "talented" Sailor Jupiter. (OK Dic joke... so sue me)
Nominated By: Maleficia, Skeeter, Apatt and ChinkPinay (whoa, I guess people like it...)
Comments:
Tis a bonny lil' site! Jupiter is one of my favorite senshi so this is a nice treat getting to review two Jupiter shrines for two months in a row. Good info on anime and manga Jupiter, and nice graphics. Lot's of neat, original sections. I especially liked the Milestones section, pointing out the finer moments of the toughest inner senshi.
My only problems with this page: The little selection menus don't work quite right in Internet Explorer. Actually I experienced this same problem on Ruk's site last month. As soon as you touch them in IE they take you straight to whatever the first selection was, not giving you a chance to choose, rendering the menu almost useless. However, I checked them in Netscape, and they work fine there. I also got some of JAVA errors in IE and even a few in Netscape, you may want to check those out. Whatever the error is, it didn't seem to affect the page, so I didn't find it annoying. The cause might be those damn Geo-watermarks. Ever since Geocities added those I seem to get errors on almost every Geocities page that uses JAVA on the page itself. [Damns Geocities]

Layout wise, this is a great page. The graphics are beautiful and vary with each page. I liked the Vegetable Garden, which was a Q & A type of page. The 'Cradle of "Sempai"'s" is cute. It's a page taking count of all the various people Makoto has been infatuated with.

This is a very nice, solid shrine about Mako-chan. It's beautifully set up, there is lots to see and do- information, miscellaneous stuff, Mako's point of view on certain characters, and lots more, with only a few very minor mistakes in the information.

Another Kraider site this month, this one on Jupiter. Lots of good info here! Extensive info on both the anime and manga Jupiter. The "Underneath the Sailor Fuku" not only is a cute name, but it gives you a lot of info on only the "everyday" character when she's not out kickin' butt as a senshi. (Actually Makoto sometimes does try to kick butt when she's not a senshi, remember the fight with Zoicite?) The mess-ups, Jun, we're talking about are very, very minor, and have no effect what-so-ever on the quality of this page. Otherwise we wouldn't have given it a Best of the Month award now would we? Overall a nice shrine with lots to see and do.
Memoirs of a Fish
Creator: Minki Kitti
General Info: The shrine with the fishy, yet rememberable name. Here's to Fisheye!
Nominated By:
Comments:
"Less is more" is an often forgotten idea with webpages. That must be the idea behind this site about Fisheye (from the Amazon Trio). The look of this site may be simple, with no real fancy tables or graphics, however it is anything but boring.
It works great! Minki includes a "fast-loading version" of this site, but I wonder if she really needs it. The page loads super fast, even the image gallery loads in fairly good time. At least the fastest I've seen for an image gallery in quite some time. It's also very easy to navigate with links to every section on every page. It's also chock full of more info than I thought possible on Fisheye unless you know Japanese and have seen every 'Fisheye episode'.
This page is proof that you don't need to be a pro with a fancy graphics editor or know the lastest HTML to put together a well presented, and an excellent researched SM page.

I enjoyed reading this page (emphasis on reading). The story of Fish-Eye is entertaining, being well told and accurate. There is more information about Fish-Eye here than I thought was available. Good information as well. Everything is cited source wise. This is a good page all around.

This page is nice. Great, fast loading, cute. I especially liked the part where the owner says that he made up the life about Fisheye when he was a fish, but it could have happened- shows what a great sense of humor the owner has. Lots of nice info, multimedia, pictures, the works. Great shrine to visit.

I've always felt info is more important than fancy pics or tricks with HTML and so on. After all, if you don't have anything really worth writing about why go through all the trouble of making a fancy site? This is a site that has all the info you could ever want on Fisheye and then some. It's not super fancy, but it works and looks just fine. The info, like I said is great, the multimedia files are good, and the pics are good.